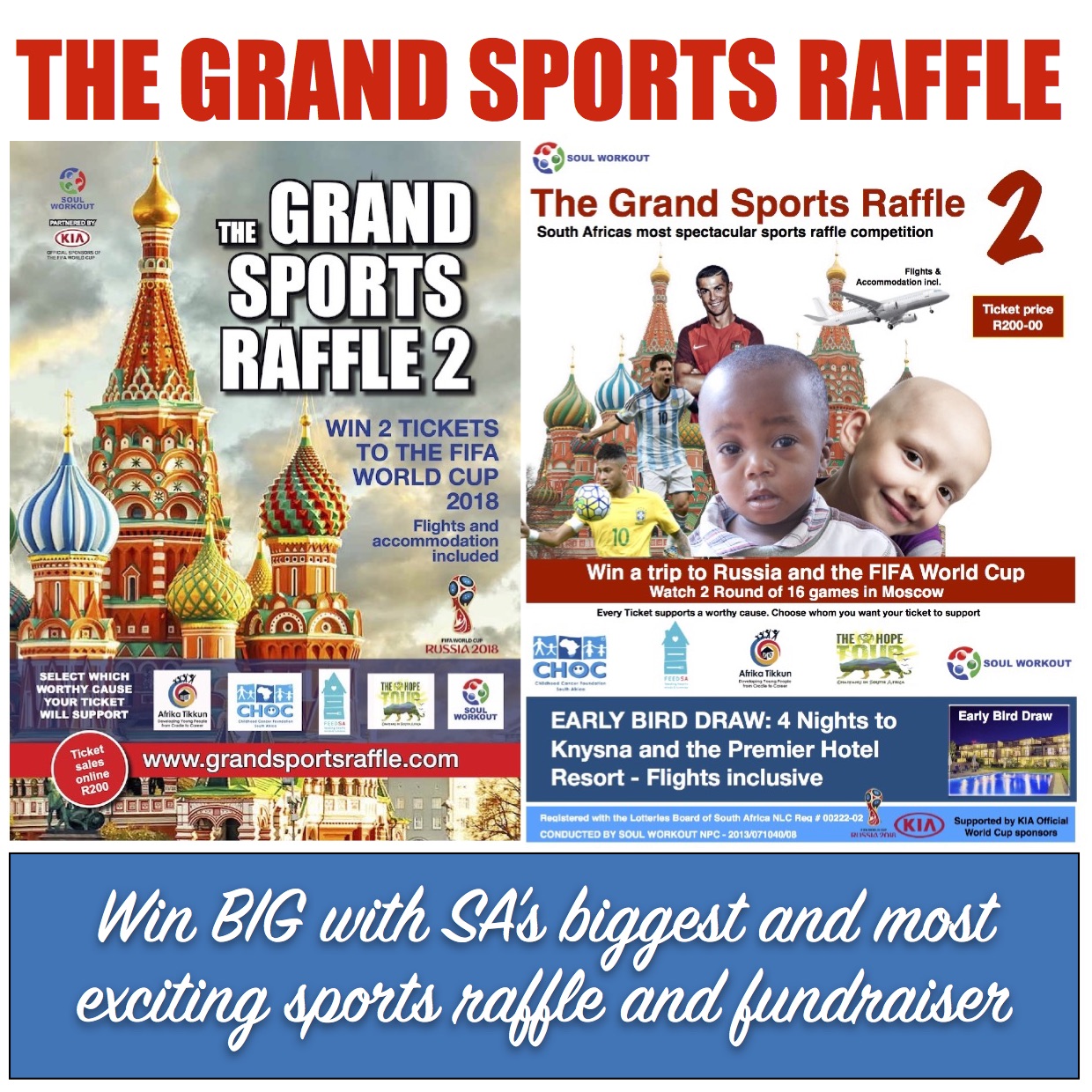 Zoo Lake Sports Club is excited to assist with this incredible fund-raising initiative which is raising much-needed funds for CHOC, Feed SA, Chayeinu Cancer Support, Afrika Tikkun & Soul Workout.
As an added incentive to increase the funds raised for these very needy causes, a small portion of every ticket purchased by a Zoo Lake Sports Club supporter will go into improvements at OUR club!!
Please be sure to indicate "Zoo Lake Sports Club" when purchasing your tickets.

Good Luck !!!
COMING UP IN 2018:
GERALD FOX MEMORIAL RUN : OVERFLOW PARKING - 16 SEPTEMBER
THE "SILENT" WALK / RUN - 22 SEPTEMBER
ZOO LAKE SPORTS CLUB OFFERS:
SOCCER PITCH HIRE / CRICKET PITCH RENTAL / SPORTS TOURNAMENTS / HUMAN FOOSBALL / IN 2 TOUCH RUGBY / LAST MAN STANDS CRICKET / CRICKET PRACTICE NETS / BOWLING MACHINE / WALK FOR LIFE / YOUTH TO PRO SOCCER LEAGUE / RUNNIN' REBELS SOCCER COACHING / LMS JUNIOR CRICKET COACHING / BOOTCAMP / SPORTSMAN EVENTS / BMT ACADEMY / GLADIATOR INFLATABLE CHALLENGES/ CHILDREN'S SPORTS-THEMED PARTIES / KIDDIES PARTIES / COMPANY TEAMBUILDING / YEAR END FUNCTIONS / PRIVATE FUNCTIONS / PANETTONE CAFE : FAMILY RESTAURANT / BAR-ZOO SPORTS BAR
PROUD PAST HOST OF:
BARCLAYS PREMIER LEAGUE LIVE FANPARK / JOBURG PRIDE / HOLLARD DAREDEVIL SPEEDO RACE / PINK PUNTER / ELECTRIC SUMMER / DEAF AWARENESS WALK / AND MANY, MANY MORE!